GreatShield Screen Shield Installation Guide
General steps for applying screen protectors: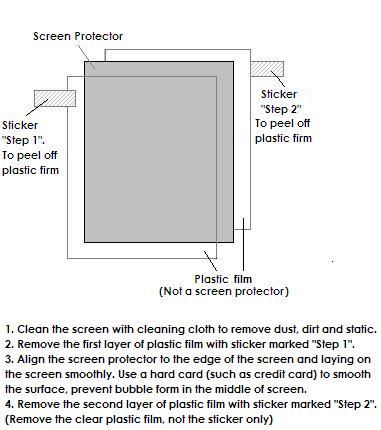 Detailed steps for applying screen protectors:
Clean the LCD Screen surface with a clean cloth. A lint-free cloth is preferred.
Match the screen protector to the screen before application, so you will know where to start.
Peel off the 1st layer, which usually marked as (1) Remove me first. You may do it by peeling half-way, so you can hold the screen protector without attracting lint or dirt from the air.
Slowly begin applying the screen protector to the screen. Ideally, start from one end, and then slowly lay it down to the other end. During the process, if you encounter bubbles while laying it down, lift up the affected portion of the screen protector and reapply it to eliminate the bubble before continuing – it will save you some work on the finishing process.
Peel off the last layer (usually comes with the 3-layer type of screen protector). If you only peel off the sticker alone, you may lift up the last layer by using a finger nail, and carefully separate the 2 layers. Only 1 layer should remain on the screen.
When you have completely laid down the screen protector, check if there are bubbles or dirt in there. If yes, lift up the affected site, and use a scotch tape loop with the sticky side out to remove the dirt/lint that is causing the bubble.